Bath Spa - Waterloo direct trains
Trains between Bristol Temple Meads and London Waterloo.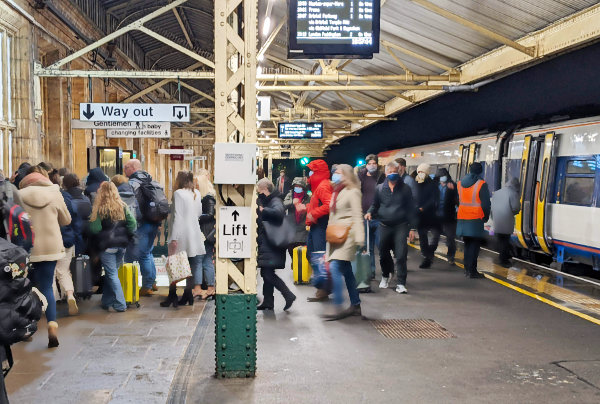 For over 20 years, we were able to take one of just three well-timed direct trains a day between Bath Spa and London Waterloo.
The photo shows passengers from the well-used 16:20 from Waterloo at Bath Spa Station - on the day before the last day of services.
These trains provided the only services direct between London Waterloo and the West Wiltshire Towns of Bradford-on-Avon, Trowbridge - and ran at useful times from Westbury and from Warminster.
The Saturday trains were dropped in September 2021, and from the 11th December, the remaining trains axed at the order of the Department for Transport.
The decision has been taken without reference to the Equalities Act (2010). A decision of this type requires an equality impact assessment. This has not been done.
For the Two Tunnels route, these trains provided the easiest way to travel to us from stations east of Salisbury, and all of south London - and makes it easier to bring a bike with you too.
These trains were popular with the travelling public but not at all popular at the Department for Transport. Our considered suggestion to address their future: continue to run the services for 2022, which would have offered the opportunity to adjust the notoriously poor connections at Salisbury to mitigate for the loss of the through trains. The DfT refused to consider this option.
What we need now
In the absence of the through trains, adequate mitigation measures: for example, useable connections at Salisbury.
Actions taken
Members, campaign organisers, and the public, took the following actions:
Petition

At the time the service ceased, over 6000 people had signed the petition - which remains available to you to sign until 7th April '22.

Public Meeting

Held on October 20th in Trowbridge, it was well attended by members of the public to hear representatives from South Western Railway and from the Department for Transport. Given the lack of engagement with the issues, two members of the public walked out of the meeting in disgust.

Freedom of Information request

Graham Ellis submitted an FoI request to uncover more of the background for the decision. The request returned useful information but was heavily delayed.

Letters to town, city and county councils

From the correspondence we've seen, it's fair to say that council representatives had strong views on this cut to rail services and how it was handled.

Letters from the public to Members of Parliament

The decision generated a bit of a postbag for MPs - in turn, several contacted ministers of state for transport but the responses even to repeated representations were lacking in quality.
For instance, on connections at Salisbury, this: "GWR runs an hourly service between Bristol and Salisbury every day, which enables stations on the line to connect to SWR's hourly service to London"... sounds marvellous, doesn't it?

Meetings between Members of Parliamant and South Western Railway

In some cases MPs met with South Western Railway but we have not been informed of the outcome.

Meetings between Members of Parliamant and ministers in charge of the department for transport

Ditto.

Meeting between campaign group and reps from GWR and SWR

The meeting was postponed (by the train operating companies) and happened only on the 30th November. We asked that a representative from the Department for Transport attend but no-one was available. At that date, (two weeks before they cease to run) we learned that the cuts to the service were going ahead and that while some additiona services would run in their place to serve travel to work flows west of Salisbury, and a gap in the eastbound timetable in the late evening from Bristol, no mitigation for the loss of the through trains across Salisbury was possible given the short notice. (See our request in the box above...)
Outcome
The decision to axe the trains was made probably as far back as February 2020, with an enquiry from the Department for Transport to South Western Railway asking them to come up with a list of services to cut in order to save costs.
SWR is increasingly an operation that concerns itself with mass-transit commuter flows - services that involve a large number of people travelling every day on the same service. Less of a concern is a service running only three times a day that serve what might still be a sizeable number of people - but who use the service infrequently. It is these people who are let down by the cessation of these trains, and with no public messaging that the trains have ceased, for the people who used them, this will be an unwelcome discovery for the next few months - there has still little public communication from South West Trains that the Bristol to Waterloo service is axed.
To gauge the use of the trains, SWR used figures from a single week in May 2019. At the time, ongoing industrial action was discouraging discretionary travel and a service that the previous train operating commpany was considering to expand was not doing as well as it did during the previous administration.
Now, discretionary travel is recovering far more strongly than commuter traffic flows - but with the Bristol to Waterloo service having lost the morning train from Bristol, as well as all Saturday services, and after a summer during which engineering works at Bristol caused it to cease to run for weeks on end, no one is in a position to know how its numbers, across 2021, would have recovered. Given that it services a strong set of destinations that favour discretionary travel, we think the service would now be doing well.
What's Next
When we left the November 30th meeting with the train operating companies, we'd agreed to work with the railway to publicise any of the connections that offer short connection times across Salisbury.
Having further considered the timetable, that perhaps turns out to be too big an ask. An example: evening connections across Salisbury are particularly poor: there are no services from Waterloo between 17:50 and 21:20 that at Salisbury offer a less than ~50 minute wait, offering extended journey times at an end-to-end speed of less than 40 miles per hour.
This is an unfortunate outcome for a service that once offered 2 hour 10 minute timings between Bath Spa and London Waterloo.
There is no intention to improve these connections for 2022 nor can we yet see any intention to improve them at the major timetable recast in December of next year. That aside, watch this space. Also. please find people to sign the petition.
The issue exposed by this campaign - train services cut in a way that discourages recovery in passenger numbers - is now causing alarm - see articles in 'The Conversation' and the Guardian. "Watch that space"... as this will now be a developing story.
Finally, thank you!
If you took an action to help with this, signed the petition, came to the Trowbridge meeting, wrote letters in support - it's appreciated. We're not at all sorry to have stepped up to this campaign - we made a sensible suggestion that would have made the railway better at what it does, and are sorry that the decision wasn't reversed, as this has let down the users who relied on the service, and an opportunity even to improve the handling of the loss of these trains, that opportunity was missed.
Also, grateful thanks to the people and organisations who lent their energy to the campaign to retain these services - and provided funds for facilities.
Two Tunnels: Made in Bath.