Two Tunnels Greenway
How to get involved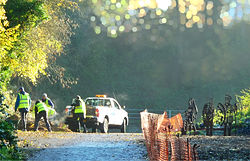 'Please see our Facebook Page' Also, here's info on volunteering and dates for forthcoming volunteer events and meetings. You're welcome to join us on one of our regular Sustrans volunteer work parties. Wear appropriate clothing and just come along and meet up. Tools are provided.
Volunteer Events
Volunteer work parties
You're welcome to join in and help maintain the two Sustrans routes local to Bath. Here's dates of forthcoming work parties.
Saturday October 27 2018 10.00am - 12.30

Working around Newbridge at the start of the B2B Path, 10.00 - 12.30 clearing the path and some of the smaller overhanging bushes. There are also a number of other small jobs that could be done in the this area.
Weather looks like it might be cold so please bring warm clothes and suitable footwear along with your hi-viz and gloves if you have them. If you have loppers or secateurs please bring these too. Biscuits will be provided as usual.

Saturday November 24

Activity to be confirmed
Meetings of the Bath group Sustrans volunteers
To find out about these, please contact Sustrans.
Two Tunnels: Made in Bath.