Two Tunnels Greenway
News from the Route
Bellotts Somerset and Dorset Intersect Bridge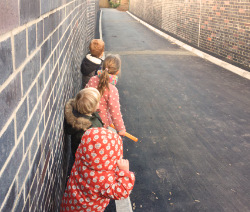 Bellotts Bridge carries the Two Tunnels route over the Great Western Main Line. The bridge was closed in September 2015 for work to demolish and replace its centre arch with a structure that has sufficient headroom to allow electrification of the Great Western Main Line. The structure reopened on January 31st 2017.
Bellotts Bridge replacement deck
Small trainspotters beneath the raised parapets, gaze north along the new Bellotts Bridge deck.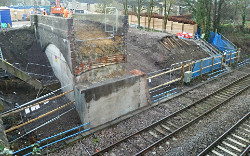 Early 2016, and a view of the Somerset and Dorset Railway bridge, the south side arch supported by concrete infill, the bridge's centre arch removed. Find more photos of the work at the Two Tunnels Bath photostream on Flickr.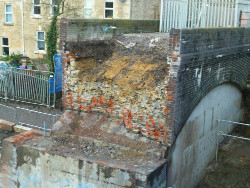 Another view from early 2016: the truncated bridge's north side arch. In the background, Burnham Road.
Two Tunnels: Made in Bath.