Two Tunnels Greenway
Combe Down Tunnel Artwork: 'Passage'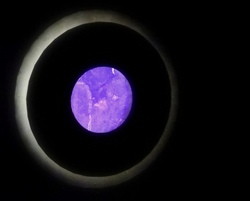 Sustrans build art installations into their routes - think of the portrait benches, the figures on Warmley Station or the dramatic 'Teepee-shape' close to Mangotsfield.
If you've been through Combe Down, you'll probably have encountered the tunnel's art installation - the lights and sounds, tucked into some of the refuges in the walls.
This is one of the Two Tunnels route's art installations -&nbspcalled 'Passage'.
Questions about 'Passage'
Who co-ordinated the work to create and install 'Passage'?

This is the work of the London based group United Visual Artists.

What are the brick arches at the sides of the tunnel?

Refuges - the track, and occasionally the tunnel, needed maintenance. It was not the practice to shut the railway to allow people to work in the tunnel - workers would listen for trains - or the pulse of air that betrayed the entry of a train into the tunnel. They'd then take refuge in the nearest side arch.

Who created the light installation?

The roundels were created by the London based group United Visual Artists (UVA) - who are recognised worldwide for their artistic use of light.

What hours does it operate?

It takes its cues from the tunnel lighting - the artwork is timed to wake at about ten thirty am - in reality, it makes a note of when the tunnel lights switch on in the morning, and then waits at least five hours. It switches off mid-evening.

Who created the music for Passage?

It was composed specifically for the route by Mira Calix - her website tells you more about the artist's work.

Does the artwork react to my movement?

Yes, each has motion sensors which usually start a sequence when you enter a nearby section of tunnel.

Wouldn't it have been better to use the soundtrack from a steam loco?

While it salutes railway history, 'Passage' has been designed as a completely new, innovative and bespoke piece in which both lighting and music form one integral artwork.

Is it useful for anything?

Yes. Many people on foot find the tunnel a bit long - or even a bit daunting. The artwork cuts in at a time when it offers a landmark and even reassurance.

I'd heard that it's classical music put there to deter teenagers.

Not at all. Teenagers are welcome. The route's used by many people under twenty - and many of those like the artwork - some like it a lot. The campaign for the route was started by people for whom the tunnels were just part of the landscape of an ordinary explore of Bath. In those days they were just a bit darker - the artwork's welcome!
Two Tunnels: Made in Bath.