Two Tunnels Greenway
Midford Castle
Midford Castle, and the moon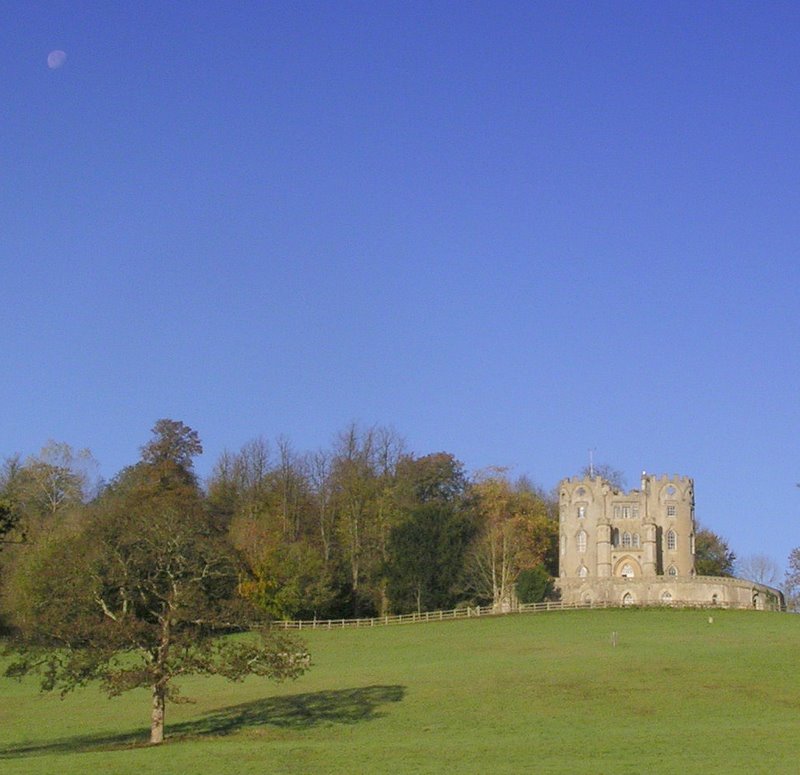 Midford Castle: not a castle, but a small country house built in a gothic castellated style in the later seventeen hundreds. Visitors to Strawberry Hill near Twickenham in West London will notice architectural similarities in the detail of both buildings if not the shape.
Midford has always been a focus for transport, and the house overlooks four significant routes. The earliest is the roman road from Bath to Poole, which leaves no trace as it descends the meadow in front of the house itself before crossing the river and climbing the slopes (rather more visibly) above the present day route to Hinton Charterhouse.
Just a few years after its building, William Smith, the man who would become known as the 'Father of English Geology', worked as the engineer for the attractive if unpromisingly named Somerset Coal Canal, an eventually profitable enterprise that ran beneath the gaze of the house and close to the Midford Brook.
A century later, the estate had presumably fallen on less prosperous times, and the Somerset and Dorset Railway was able to build their line on a climbing gradient across the lower slopes of the hillside between the structure and the Midford Brook in plain view of the house. For ninety years the property would look down on the trains, including the dramatic sight of long distance expresses as they swept down to Midford, or climbed noisily to Combe Down Tunnel.
During this timespan, the canal, once the destination of country walks for the likes of Jane Austen, would fade from the scene, leaving a series of well-hidden historical relics along its route, there for the finding.
The old line itself is now forty years gone. Its route is now a path that runs under the 'Long arch' away from the village of Midford, to climb the hill to the viaduct crossing Horsecombe Vale, somewhat concealed by lineside trees grown tall. There follows a long sweep past limestone cutting flanks. A glance at that rock reveals the same history book translated for the first time by William Smith all those years ago.
Two Tunnels: Made in Bath.