Two Tunnels Greenway
Somerset and Dorset Gradient Profile - Bath to Midford
Bath's Linear Park has involved remodelling the line, and little survives of its original gradients here. Adaptation as a shared use path will need further changes to ensure that people on cycles and on foot can coexist - the Linear Park, while run down, is valued as an open space for people of all ages to exercise, walk dogs, enjoy the fresh air, but in places it's narrow, muddy in wet weather, and has unfriendly gradients for people who use wheelchairs and pushchair unfriendly surfaces.
The bridge carrying the S&D line across the present-day railway at Bellotts Road repays a visit, as it graphically reveals the climb involved in bringing the line to its first summit close to Combe Down tunnel's north portal
This gradient was maintained to the summit in Lyncombe Vale at a height of about 61 metres, with one short break, possibly to provide a station site. This later became the site of a siding for the Co-op dairy there - which itself generated the last traffic to use the line.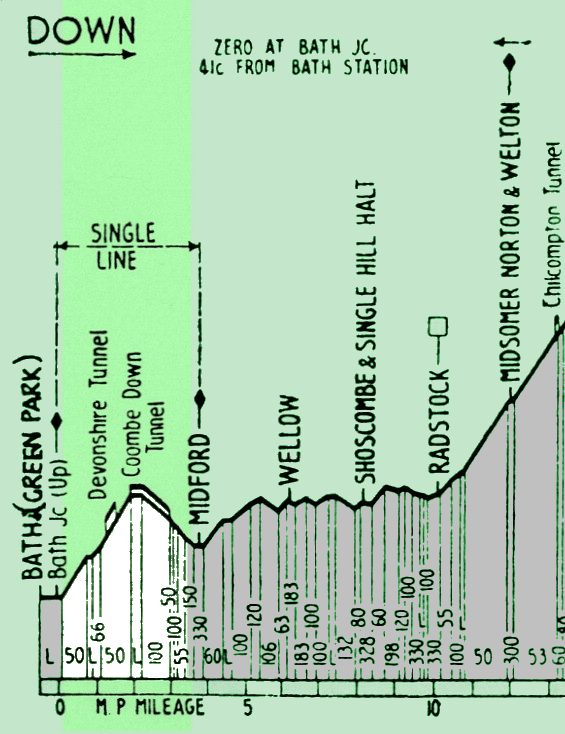 Footnote: a might-have-been
These gradients, and the restrictions to traffic caused by the single line section and the reversal at Green Park station, led to a proposal from British Rail to close everything between Newton Fields, on the western outskirts of Bath, and Midford - replacing this problematic stretch with the following new build:
A spur from the Midland line at Newton Fields west of Bath, to take S&D through the city on the ex GWR line. This spur had very nearly been built during world war two, when its line progressed as far as being pegged out on the ground ...
East of the site of Bath Spa Station, a new junction and line south, involving a tunnel beneath Claverton Down, to the Monkton Combe valley, thence using the alignment of the Camerton branch, and a further spur to join the double track section of the Somerset and Dorset line at Midford.
With this in place, it is possible that Bath would today have very much better rail connections to the midlands, that Bristol would still enjoy the more direct line to Birmingham via Mangotsfield, and that the development of the paths charity Sustrans would have been very different!
Two Tunnels: Made in Bath.